The manufacturing sector failed to achieve any growth in November, according to new data from the Office for National Statistics.
The report showed output in the industry, which makes up a tenth of the UK GDP, was unchanged in November, marking its weakest performance since August.
The results, which also showed China overtaking the USA as the world's largest goods distributor, saw the UK fall short of a forecast 0.4% manufacturing growth for the month.
It also emerged that the wider industrial sector including utilities and mining also fell short of its own 0.4% forecast for output increase.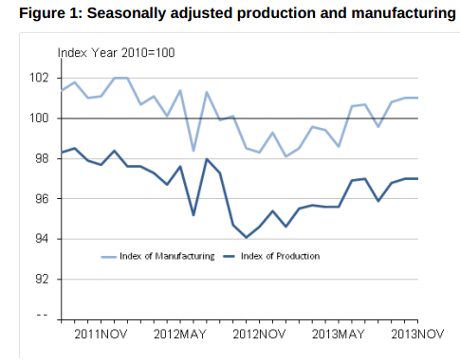 Stephen Gifford, CBI director for economics, said although the figures were disappointing, there remained a growing sense among firms that a recovery is taking hold.
"Jobs are now being created fairly consistently across the country and, for the first time since the start of the recession, most firms intend to increase their workforce," he said.
"However, as growth picks up, getting more firms investing and exporting is crucial to ensuring a well-balanced, broad-based and sustainable recovery."