Industry 4.0, also known as the Fourth Industrial Revolution, has transformed the manufacturing landscape. By using smart/intelligent technology and machinery, manufacturers can automate the shop floor, eliminate manual processes, boost product quality and reduce waste.
Above all, says Simon Noakes, UK Business Line Director at Columbus, Industry 4.0 can improve efficiency – both process and cost.
This isn't just great news for manufacturers; it's great for customers too. Industry 4.0 can transform customer experience. Here's how.
Better customer insights
It's said that 90% of B2B customers research products online and up to 60% of the buying journey is completed before they even reach out to a salesperson. Manufacturers have traditionally been slow on the uptake when it comes to online presence. However, it's clear there's a strong preference for digital engagement among the B2B audience.
E-commerce platforms can help. Not only will they allow manufacturers to offer a digital catalogue to a much broader audience, but they can also gather data on customer behaviour patterns. For example, most popular products according to demographic, spikes in demand and whether that correlates with the wider market – all of these can help manufacturers become more customer-centric and improve their overall customer experience.
Better customer engagement throughout the lifecycle
No matter where a customer is in their buying journey, they always want to be engaged with. Different Industry 4.0 technologies can help here. For example, customers who are near the beginning of their journey may benefit from:
Artificial intelligence – AI-driven analytics can allow you to personalise experiences to the individual customer. For example, intelligent chatbots can tailor their responses to customers depending on the tone and direction of the conversation. Or an e-commerce platform with AI capabilities can use customer behaviour data to offer tailored product recommendations on your website
Virtual reality – VR can bring products closer to customers who can't experience them in person, creating a realistic and immersive purchasing experience. This helps build trust early on in the buying journey
Even after they've made a purchase, customers expect excellence. In addition to the obvious (a well-functioning product, perfect quality of service and frictionless experience), customers expect proactive support. It shows just how much their chosen company values them.
Here are some examples of Industry 4.0 technologies that can help manufacturers cater to this:
RFID and GPS trackers – this allows any manufacturer's partners (e.g. distributors) to better coordinate with customers and manage resources (e.g. scheduling crews) which will optimise the overall customer experience
Augmented reality – AR is an offshoot of VR which allows maintenance teams to superimpose digital images of systems on top of the actual equipment. This improves troubleshooting and the first-time-fix-rate as well as customer satisfaction and experience
Predictive analytics – devices that are Internet of Things (IoT) enabled can detect signs that a product/machine may fail or not work as optimally as it should. Using this knowledge, these devices can catch defects and fix them (or improve the outcomes) before they impact customers
The most common challenges that manufacturers face include lack of visibility into their customers' usage of products, difficulty in forecasting spare parts demand and predicting maintenance requirements.
There are solutions that help fleet managers and operators gather critical data all in one place so they can better understand resource utilisation, team availability and the maintenance requirements of assets. This paired with IoT-enabled equipment that can gather real-time data on machine performance and productivity can help manufacturers prevent equipment failures and quickly remediate and perform root cause analysis.
The customer should always be at the centre
Technology is always advancing and in most (if not all) industries, there's the pressure to stay on top of it. This is understandable – the right technology can improve process efficiency, internal productivity, cost efficiency, product quality, quality of data and more.
However, don't forget that it's not just technology that determines whether a company stays ahead of the competition. Instead, it's the customers – they're the ones who are ultimately in charge of a company's long-term staying power.
That's how manufacturers should be looking at Industry 4.0. It's not just a way to improve their business but to keep their business in the long-term.
About the Author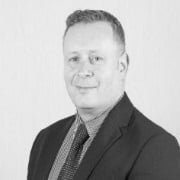 Simon Noakes
UK Business Line Director, Customer Engagement and Business Central, Columbus
Experienced Manufacturing and Supply Chain professional, with a background in both Automotive and FMCG spanning over 20 years. During that time, Simon was directly involved a number of ERP and other system implementations, from a client perspective. With his current position as Business Line Director for both Microsoft Dynamics Business Central and Customer Engagement, he uses his previous business knowledge and time spent with Columbus as Practice Director, to oversee business consultancy and solution implementations across ERP/CRM and wider solutions to support businesses in delivering real value and to digitally transform, using proven project methodology.