Today's customers expect more than high quality products and innovative technology. They want personalised experiences and engagements that predict their needs before they even realised they wanted it. If this is sounding like a very 'B2C' experience, you're not wrong. In fact, the modern B2B customer wants a more B2C-like customer experience than ever before.
So now delivering a positive customer experience is all about using the latest technology to support customers where they are, says Simon Noakes, UK Business Line Director at Columbus, Industry 4.0, and in exactly the way they want to be engaged.
Digitalisation: The secret to achieving customer loyalty
You don't need to digitalise your whole manufacturing operations. Simply digitalising your product catalogue can be a great step towards improving customer experience. Essentially, it's about making it easier for your customers to self-service – for example, finding information such as accurate stock levels, configuring product functionalities and customising pricing.
Giving customers more autonomy will enhance customer experience. They no longer need to contact customer service – they can access the relevant information as and when they need it.
Clearly, convenience is everything to customers. Not only do they want to find the answers to their problems but finding it in the first place should be an easy task. And when they find that information, it should be up-to-date.
Here are some more examples that can remove friction from the customer's buying journey:
Informational guides (e.g. manuals and maintenance books) available on your website and correctly tagged so it's easy to find
How-to and 'top tips' style videos so your customers can maximise their product usage
A customer portal where customers can find all the information that's order-related. For example, the status of their order, customised pricing and maintenance schedules
Automatic notifications related to equipment maintenance – for example, proactively contacting customers to book services before it's due
The impact of digitalisation on internal operations
Digitalising your product information doesn't just offer external benefits; this move can benefit manufacturers internally too. For example, customer service teams within manufacturing businesses frequently help customers find what they need. While this approach may be working fine, what if key information was available digitally?
This gives your customer service representatives more time back to focus on other value-added tasks – such as using that wealth of product knowledge to handle more complex customer queries, personalise engagements and develop stronger relationships.
Here's another example: if your CRM and ERP systems are integrated, you'll not only maximise the ROI of your ERP. In fact, data from one system can easily be accessed in the other, which:
Eliminates data siloes and duplication
Minimises manual work
Facilitates team collaboration – for example, your sales team can easily access key information about customers to close deals, such as using the ERP to offer the latest pricing data or customer history to personalise the engagement
The impact of customer experience on new product development
Better customer experience can have an indirect impact on your product quality. A deeper understanding of your customers and their needs/demands means you can discover what your customers actually want from your products.
This knowledge can be used to improve your new product development process and overall product quality.
Here are some ways you can improve your customer insights:
Ask for and collate feedback on your product and service quality
Allow users from different teams, departments and functions to easily access the CRM system to view customer data. This will help remove siloes
Ensure the process of adding data to the CRM system is simple (e.g. autofill, suggestions/recommendations for what to add). The simpler it is, the more inclined users will be to use the system properly and keep it up-to-date
The concept of innovation isn't new to the manufacturing industry. For centuries, manufacturers have been looking for ways to improve process efficiency, reduce manual processes and boost product quality. That was once enough. But now, better quality products and more innovative technology are no longer adequate differentiators.
That's why manufacturers that are using technology to improve customer experience (and satisfaction) will surely reap the benefits of their investment.
---
About the Author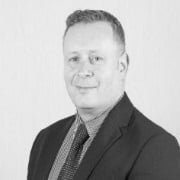 Simon Noakes
UK Business Line Director, Customer Engagement and Business Central, Columbus
Experienced Manufacturing and Supply Chain professional, with a background in both Automotive and FMCG spanning over 20 years. During that time, Simon was directly involved a number of ERP and other system implementations, from a client perspective. With his current position as Business Line Director for both Microsoft Dynamics Business Central and Customer Engagement, he uses his previous business knowledge and time spent with Columbus as Practice Director, to oversee business consultancy and solution implementations across ERP/CRM and wider solutions to support businesses in delivering real value and to digitally transform, using proven project methodology.